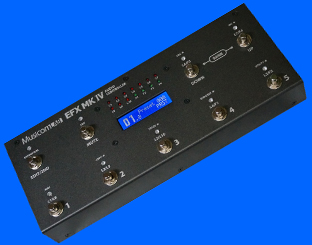 IN STOCK
CHOOSE AN OPTION TO ORDER NOW
MUSICOMLAB EFX MKIV
10 audio loops arranged in a group of 6/4
Last 2 audio loops stereo capability
4 function control switches (Latched / Momentary)
Mute function and Popping noise reduction control
126 preset memory locations
25 banks of 5 presets, plus a Global Preset
5 presets per bank/song
Song and Set mode
Create up to 99 songs
Organized the 99 songs in to 9 sets of 32 songs
Transmit up to 6 MIDI Program Change messages
One expression pedal port (global / per preset)
2 line x 16 character LCD display with blue backlight
Easily copy presets, banks, songs and sets
Easily name presets and songs
Heavy-duty footswitches and gold-plated relays
Powered by 12VDC(center negative) 300mA
Dimensions : 332(W) x 126(D) x 70(H) mm
13.1(w) x 5.0(D) x 2.8(H) inches
Weight : 1,320g / 2.9lbs
2-year manufacturer warranty
$849 USD Street $749
The EFX MK IV is the ultimate floor based effects switching system. Compact, easy to use and fully programmable, the EFX MK IV features 8 audio loops and 4 function switches. In addition to the new function switches, the EFX MK IV now has 3 direct access pages for the ultimate in on stage convenience. The new EFX MK IV Audio Controller has 240 memory locations, configured as 60 banks of 4 presets, plus a global preset. It can transmit 5 MIDI Program Changes on 5 MIDI channels and 12 MIDI Control Changes on an appointed MIDI channel. The MK IV also includes one continuous controller port (XPDL), which can be programmed with its own MIDI channel and control number. The XPDL port can now also be used with a footswitch as well as a volume type controller. In addition, the 10-stage pop filter now can be set to any of the 10 levels, adding to the flexibility of this amazing unit. The EFX MK IV also has a mute function that is available in all modes of operation.
The EFX MK IV can be used in either preset mode or direct access mode, for ease of operation without programming.
The EFX Mk IV's two low-noise, high quality buffers now have extended headroom to prevent the loss of guitar signal. The input buffer can be bypassed for Hi-Z input pedals such as Fuzz, etc. The EFX Mk IV Audio Controller is constructed with the highest quality parts, including heavy-duty, noiseless switches and gold-plated relays. It is a very compact and rugged steel enclosure (11″W x 5.2″D x 1.7″ Front Height x 2.2″ Rear Height).